Posted by Sverre in : Malaysia, World politics , comments closed
Yes, I know. Malaysia isn't an Arabic country, and the current Malaysian regime is far from the former regimes of Libya and Egypt. Nevertheless, today's general election in this Muslim majority South-East Asian country could possibly be a pivotal point with several similarities to the Arab Spring, and with a peaceful transfer of power, could possibly make it a beacon for the fledgling regimes further west.
When Malaysia gained independence from Great Britain in 1957, one of the conditions for the transfer of power was that power had to be shared between the major ethnic groups: The Malays, the Chinese and the Indians. The Party Perikatan (Alliance Party), later to become the Barisan Nasional (National Alliance), was the response – a coalition of the main political organization of each of the three groups, namely United Malays National Organization (UMNO), Malaysian Chinese Association (MCA) and Malaysian Indian Congress (MIC). This nationalist conservative alliance, led by the UMNO has ruled the country since, with fifty years of consecutive two-third majorities in parliament until 2008, when the newly formed Pakatan Rakyat (PR) opposition alliance under the leadership of former UMNO deputy head Anwar Ibrahim seized almost half the votes (but far less than half the seats due to a first-past-the-post electoral system).
The maximum term length for the Malaysian parliament is 5 years, so the Prime Minister finally had to dissolve parliament and call for new general elections now. To name an election "historic" is an abused trope, but in this case it has all the makings for becoming a pivotal moment in Malaysian history. Either as the election where BN lost its marjority for the first time, the election where PR lost its momentum and failed to gain the majority, or something else entirely. (more…)
Posted by Sverre in : Malaysia , comments closed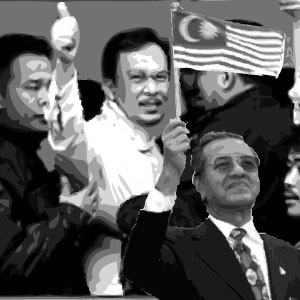 The Wall street Journal today published a joint editorial by Al Gore and Paul Wolfowitz  ((Hidden behind paywall at WSJ, so I'm linking to Lim Kit Siang's publication of the entire piece)) regarding the trial against Malaysian opposition leader Anwar Ibrahim. This trial is the latest in a series of various legal actions most likely politically motivated and engineered by the Malaysian establishment to keep him out of Malaysian politics.
Gore and Wolfowitz, pretty far apart in domestic politics have come together in their condemnation and call for action by the American government. They also display some insight into matters in Malaysia and Anwar Ibrahim. Matters in Malaysia are by no means entirely black and white, but the heart of the matter is that abuse of judicial power to undermine democracy is wrong no matter what. (more…)
Posted by Sverre in : Malaysia , comments closed
I haven't blogged much the past couple of months. It's partly because of a busy schedule and partly because of a severe case of writer's block. A holiday to my old stomping grounds in Malaysia and Pulau Langkawi where I once attended sekolah menengah (Malaysian high school) has inspired new interest in writing about the country.
Malaysia has a parliament and elections, but it is nowehere near being a working democracy. This week they have once again proven this with the censorship of MP and opposition leader Anwar Ibrahim. Anwar now faces possible suspension from parliament over a comment made during one of its sessions. He claimed that the nationalist campaign 1Malaysia, intended to boost national unity, is somehow related to Ehud Barak's 1999 political campaign One Israel. The relation is the PR firm APCO that allegedly has been working for the government coalition Barisan Nasional. (more…)
Posted by Sverre in : My master thesis, Political behavior, Political Theory , comments closed
The following is part of the ongoing research for my master (graduate) thesis.
"Society is like a ship, and everyone must be prepared to take the helm."
(Henrik Ibsen, An enemy of the people,my translation.)
Those of us who hold deliberation (in any form) to be an important prerequisite for informed decision making, would also be interested in the topic of how deliberative functions in society can be improved.
James Fishkin has been one of the most quoted political scientists concerned with the topic of deliberation. He's a normative scientist, concerned with the benefits that can be reaped from encouraging more democratic debate throughout the population. He has proposed new democratic institutions, such as deliberative opinion polls, or more grandly the thought of a universal "Deliberation Day" (Ackerman & Fishkin 2003). But both of these rest on one very important assumption, that  "[…]most citizens would be glad of the opportunity to play a serious role in important historical events" (Fishkin 1991:9). And this is an assumption Fishkin seems to take lightly. But is it realistic? (more…)
Posted by Sverre in : Political Theory, World politics , comments closed
I
n the euphoria surrounding the presidential election, other events in American politics have been crowded out in media. A darker chapter in American history was written in the presumably liberal state of California. I haven't heard many (at least outside the US) discuss this, except a few bloggers – among them the authors of one of my favourite blogs, Voting While Intoxicated.
I'm of course talking about the amendment to the Californian constitution to ban gay marriage, which was voted for together with the presidential election. For those who might not be familiar with the American political system, this is quite common – to include propositions to be voted on by the public together with any election. The infamous Proposition 8, named after its number on the ballot, got 52.1 percent of the vote, more than the necessary simple majority for a new state constitution amendment. It reads as follows:
SEC. 7.5. Only marriage between a man and a woman is valid or recognized in California.
As a strong supporter of gay rights, this has ruined some of my new found belief in America. But aside from my personal feelings, this is the kind of thing that would make influential political philosopher Alexis de Tocqueville turn in his grave. (more…)