Posted by Sverre in : Human rights, language , comments closed
Great controversy has apparently arisen in the US over the inclusion of the word "negro" in a national census. Once again I am reminded of the different reality I live in. Where I come from, Norway, race isn't a concept we're familiar with neither in social science nor politics. Nationality (including second and third generation immigrants), religion and cultural heritage are certainly issues, but genetic "race" alone is an alien concept. We do have some dark blotches on our record, most notably treatment of Jews before WWII and the Rom and indigenous Sami peoples until far too recent years. In present day Norway, I perceive the concept of race as one that belongs to the extreme right fringe of society.
Posted by Sverre in : Uncategorized, United States , comments closed
The Democrats may lose their supermajority in the Senate. A serious problem for health reform. Several bloggers have opinions on what this may signal that way or the other, particularly since this is a traditionally Democratic seat. Dan Drezner has an interesting take on the real reason why the race has suddenly gotten interesting: Both candidates are apallingly bad.
I quote:
[…]the candidates are God awful.  Seriously, they stink.  Just to review our choices:  Democrat Martha Coakley has a prosecutor's complex that would make Javert seeem like a bleeding-heart liberal.  She is a God-awful politician so out of touch with  reality that she accused Red Sox hero extraordinaire Curt Schilling of being a Yankee fan (Schilling's blog response is here).  Based on the ads I've seen, her campaign has also been, by far, the nastier of the two.

This leaves Republican Scott Brown, who based on this vacuous Boston Globe op-ed, is an empty shirt with no actual policy content whatsoever.  He was in favor of health care reform before he was against it.  He can't stand the run-up in government debt, and wants to cut taxes across the board to take care of the problem — cause that makes perfect economic sense.   The one thing he is unequivocally for is waterboarding suspected terrorists.
It would be true political irony if all Obama's blood sweat and tears over health reform should go to waste because of a mess like this. But that's politics for you. Part of the reason why it's so interesting…
Posted by Sverre in : United States , comments closed
The Daily beast brings a very interesting editorial piece about the struggle between Obama's administration and Fox News. John Bathcelor points out that Fox isn't primarily a news network, it's an entertainment network that makes money from advertising. And they're doing that very well right now:
None of what goes on in the evening has anything to do with government. The president and the Congress are discussed as omnipresent villains in a fairytale that begins with a happy kingdom of worthies, introduces an ogre, a witch, and a curse, and then interviews champions to come forward to rescue the frightened children and save the USA. All the while, Ming the Merciless, aka Rupert Murdoch, rakes up the ratings and the bucks.

The worst mistake Axelrod and Emanuel are making by confusing Fox News with the Republican Party is that they are confusing campaigning with entertaining and then letting this mistake blind them to the fact that the White House is for governing, not just staging.

Fox News is not in the news business; it's in show business. The Republican Party, like its blood kin the Democratic Party, is in the campaign business. The White House is in the government business, though, from the evidence so far, it doesn't know how to break out of the campaign business.
It all sounds rather logical to me. I've never been thought "taking on the media" was a particularly good idea. The winner in this struggle is surely Rupert Murdoch, who gets richer by the hour.
Posted by Sverre in : International relations, World politics , comments closed
Some numbers are out from Pew Global Attitudes on how different nations view the United States after the change in the presidency. Dan Drezner has made some comments on them, saying that this is a measure of how Obama's soft power policy is changing the world's  attitudes. But the really amazing stuff has been dug up by Kevin Drum at the Mother Jones blog. Just have a look at this table (click it to see the entire table in its original location):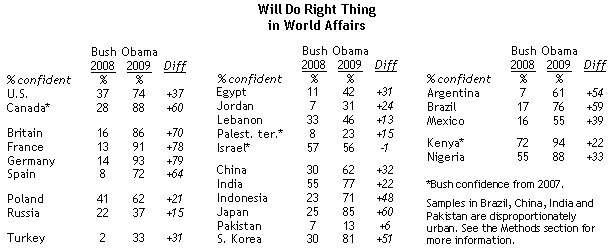 These figures are rather amazing. There seems to be only one country where the people don't think Obama is more likely to do the right thing in international affairs – Israel. And the relationship between Israel and the US can hardly be said to be much like the relationship with any other country…
Posted by Sverre in : Political economy, World politics , comments closed
I was listening to an LSE podcast of a lecture by French Minister of State for European Affairs Bruno Le Maire, when I heard some surprising statements made. He was talking about how it was important for European nations not to resort to protectionism in the face of the current crisis when he happened to make some interesting, possibly disturbing, statements. He talks about the difference between protecting your industries and protectionism. I can't spot the difference, can you?  (from approiximate 1h10min into the speech):
[…]so I am not in favour of protectionism, as I just said, I am just in favour of European measures – measures decided at the European level – that would prove to our citizens that we are taking into account their fears and worries and that we are trying to protect our European economy, that we are trying to protect our industries. This is a very difficult balance we have to find, but this is not protectionism. Protectionism means today that the UK would take some very concrete measures just to protect one of its plants, in New Hampshire for example, or London. Or that France would take some very national measures just to protect one of its industries or one of its plants in Normandie or the south of France without taking into account the interest of the UK and Germany and Spain and Italy. That's the difference between the two ways of protectin industries and protecting our economies[…] (more…)
Posted by Sverre in : Political Theory, World politics , comments closed
I
n the euphoria surrounding the presidential election, other events in American politics have been crowded out in media. A darker chapter in American history was written in the presumably liberal state of California. I haven't heard many (at least outside the US) discuss this, except a few bloggers – among them the authors of one of my favourite blogs, Voting While Intoxicated.
I'm of course talking about the amendment to the Californian constitution to ban gay marriage, which was voted for together with the presidential election. For those who might not be familiar with the American political system, this is quite common – to include propositions to be voted on by the public together with any election. The infamous Proposition 8, named after its number on the ballot, got 52.1 percent of the vote, more than the necessary simple majority for a new state constitution amendment. It reads as follows:
SEC. 7.5. Only marriage between a man and a woman is valid or recognized in California.
As a strong supporter of gay rights, this has ruined some of my new found belief in America. But aside from my personal feelings, this is the kind of thing that would make influential political philosopher Alexis de Tocqueville turn in his grave. (more…)
Posted by Sverre in : US Presidential election , comments closed
As I wrote about some days ago, I've been gathering data on the Norwegian media coverage of the US Presidential Election. I'm now up to date with all registering of data, and have taken a little more time to analyze it. With 154 registered articles, the main conclusion still stands: Norwegian media favours Barack Obama both in volume and in positivity of the coverage.
Current numbers (September 30th 2008):
Obama: 106 articles, +29 balance
McCain: 73 articles, -3 balance
It does however seem clear as well that this enthusiasm doesn't translate into a campaign against McCain. The coverage of McCain's campaign seems well-balanced, with the number of negatively and positively angled articles roughly balancing each other out. (more…)