Posted by Sverre in : Malaysia , trackback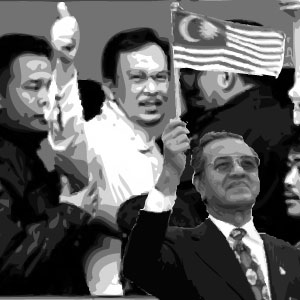 Malaysian opposition leader Anwar Ibrahim was today back in the courtroom for trial on charges of sodomy, a very serious offense in the Muslim-dominated Malaysia. The prosecution claims to have rock sure technical evidence, Anwar and his supporters claim this is a high-level government conspiracy to discredit the opposition movement. Whatever the truth, both sides of the political fence in Malaysia has much on the line in this trial.
Similar charges in 1998 led to Anwar being sacked as s deputy PM, imprisoned and quarantined from politics – also being the decisive blow against his economic reform program1. It may have been a pyrrhic victory for the sitting regime as it also served as a rallying call for the opposition eventually leading to the creation of the current opposition coalition where such diverse parties as the Islamist PAS and the socialist DAP stand reasonably united with Anwar as their leader.
In the previous round, the allegations against Anwar were by many seen as a decisive low blow by a hegemonic leader (Mahathir Mohamad) against his reform-oriented deputy who was rising too fast in public popularity . In 1998 Mahathir sat on the pinnacle of a strong pyramid of patronage and media control. He needed to prevent Anwar from getting in the position for a possible hijack of this effective machine. In destroying an internal enemy he created an external one.
Under Mahathir's successor Abdullah Ahmad Badawi, that pyramid became increasingly wobbly. He was unpopular, even with the Malay majority that had strongly supported Mahathir. He was also generally seen as incompetent, and failed to exercise the autocratic control over Malaysian politics his predecessor had. Not only did an organized parliament opposition appear, gradually increasing its political power, but oppositon also grew within his party UMNO and the government coalition Barisan Nasional was creaking at the seams.
Anwar's political quarantine ended in 2008, and in the same year an electoral landslide made Barisan Nasional lose its traditional 3/4 majority in parliament. The internal opposition became strong enough to force the retirement of Prime Minister Abdullah, to be replaced with Najib Tun Razak the son of nation builder Tun Abdul Razak and member of one of the true power dynasties of Malaysia. Where there were only feeble attempts at criminal charges against Anwar at the end of Abdullah's reign, they have now once again managed to drag him into court where he faces the possibility of a long prison sentence and a new political quarantine. His alleged offence is engaging in homosexual activity.
Reuters comments on the strong media bias that especially influences the poorer and less educated rural Malaysia. Still, The Washington Post suggests that this whole trial may be a bad move from the government. Indeed I agree that should he be convicted, it will be yet another pyrrhic victory for the leadership of Malaysia. It was a desperate move and a bad idea in 1998 and gave Anwar the martyrdom status necessary to become the opposition icon he is. And that was in a time when Mahathir's autocratic control of the country was much stronger than Najib's today. It is an even worse idea now. The opposition struggles with being an alliance of very diverse groups. Further martyrdom for Anwar will certainly give them renewed strength, provided they manage to find a new leadership figure without breaking apart.
Should Anwar lose the trial, it will also cast further shadows of doubt over the Malaysian court system. In the previous round, Anwar's sodomy conviction was actually overturned after four years. The police and prison authorities were also strongly reprimanded for mistreatment of Anwar while imprisoned. The way the trial is conducted may tell us much about whether the independence of the court system has improved or worsened since 1998.
One way or the other, the trial will have great impact on Malaysian politics. The process and its outcome will be very interesting to follow.
I have previously published a student paper about this in the post Sex, lies and capital controls [↩]